Please note that all the accommodation provided is the universities current student rooms and needs to be booked on the online application form at the same time as applying to attend a course.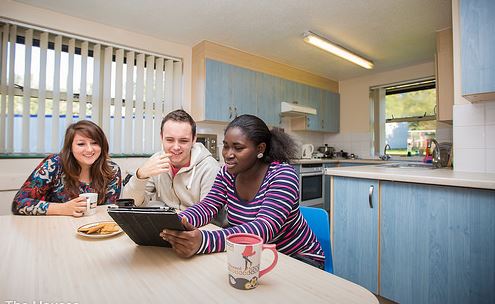 All Essex campus accommodation is situated just a few minutes away from the academic and administrative buildings, so residents can, for example, easily use their rooms between lectures to prepare a meal or take a coffee break. All residences are equipped for self-catering and are provided with bed linen but no towels. On campus there are also cafeterias, a general store, a Post Office, banks, and a launderette. No double bedrooms are available in university accommodation, but couples can be provided with single study-bedrooms next to each other. Computer network facilities are available in all accommodation.
Please note that, unfortunately,
it is not possible to obtain accommodation before the night of Saturday 8 July;
it is not possible to make refunds in the case of early departure;
the University requires rooms to be vacated by 9.30 am on day of departure, however luggage can be stored at the Conference Reception.
Therefore, if your class does not finish until late and you wish to stay an extra night, this must be booked in advance or arranged while on campus.
Essex Campus ensuite Rooms £38/person per night
All of our single study rooms are en-suite and furnished with a single bed, a desk and chair, bookshelves, a wardrobe, a bin and a lamp. And in addition we provide bedding and hand towels.
Kitchens are equipped with a cooker, refrigerator, freezer, microwave oven, kettle, iron, ironing board and storage units. And a selection of: crockery (plates, cups etc) cutlery (knives, forks, spoons) saucepans and frying pans other cooking utensils (tin opener, whisk etc) to enable you to self cater if you wish.
The ensuite rooms are in flats of 6 study-bedrooms with own shower and shared kitchen-common room per flat. The cost is £38 per night. These rooms are in the North Houses which is a very short distance away from all the main activity and generally quiet.
Oxford Courses
Course Location and Accommodation – The Experimental Summer School will be held at Nuffield College, CESS and the Social Science Department at University of Oxford. CESS has a fully-equipped experimental laboratory which will be an integral part of the Summer School instruction (http://cess-wb.nuff.ox.ac.uk/). Course lectures will be held in Nuffield College and lab sessions will be held at the Social Science Department. Accommodation is available from Oxford Colleges and also from Oxford area hotels and hostels. The CESS website has an extensive listing of these accommodation options. It is highly recommended that students book their accommodation as early as possible since College accommodation is in high demand during the summer period.